At Last! Sir Richard Branson and Governor Michelle Lujan Grisham announced on May 10th that, beginning immediately, Virgin Galactic will move more than 100 employees to New Mexico and SpaceShip Unity to Spaceport America (SA). The additional jobs will bring the company's employment at Spaceport America to 150.
The announcement was made at a ceremony at the state capitol in Santa Fe. "New Mexico delivered on its promise to build a world-first and world-class spaceport," said Branson. "Today, I could not be more excited to announce that in return, we are now ready to bring New Mexico a world-first, world-class spaceline. Virgin Galactic is coming home to New Mexico, where together we will open space to change the world for good."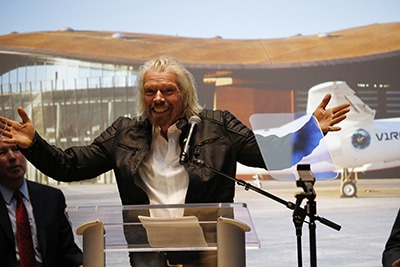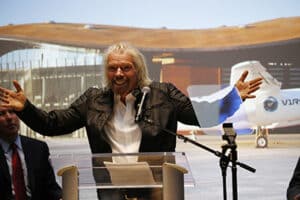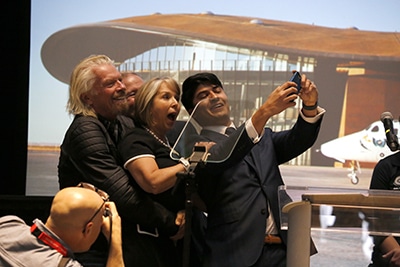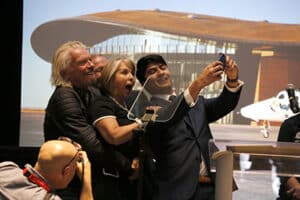 Spaceport America represents a $218 million investment by the state of New Mexico. The 18,000-acre FAA-licensed facility sits adjacent to the U.S. Army's White Sands Missile Range and the most restricted air space in the United States except the sky over the White House. SA has three vertical launch complexes and a 12,000-foot runway. Two hundred four vertical launches have taken place at the spaceport to-date.
"Virgin Galactic's announcement today is an incredibly exciting development for both our state's economic future and the future of aerospace in general," Governor Lujan Grisham said. "With these workers here and with these plans firmly in place, I'm certain New Mexico will serve as the launchpad for the rapid industry growth we've been expecting for so many years. Today marks the beginning of the next chapter of aerospace in New Mexico."
Virgin Galactic will reposition its space system consisting of carrier aircraft VMS Eve and spaceship VSS Unity from Mojave California to Spaceport America over the summer months once cabin interior and other work has been completed by Virgin Galactic's sister manufacturing organization, The Spaceship Company. It will complete final test flights from New Mexico for commencing a full commercial service for passengers and research payload.
Tags: aerospace, gov. lujan grisham, job creation, richard branson, spaceport america, videos, white sands missile range