On Friday, March 29, Gov. Michelle Lujan Grisham signed Senate Bill 2 at Albuquerque Studios, delivering on a promise to boost the state's film, television and media industry and provide for steady growth in an economic sector that keeps New Mexicans employed and offers young adults the opportunity to build a sustainable career.
Senate Bill 2 more than doubles the annual "cap" on rebate payments to qualified film and television productions. When production companies choose New Mexico and pump millions into our economy, the state, through its incentive program, rebates a portion of what the companies spend. Lifting the annual "cap" to $110 million provides the state program with greater flexibility, sends a clear signal to production companies that New Mexico will keep its promises, and ensures the state does not accumulate another multimillion-dollar backlog like the one that built up under former Gov. Susana Martinez. Senate Bill 2 provides for a significant investment in paying off the Martinez backlog. Additionally the legislation allows the state to authorize an additional $100 million in future production credits for work in earlier stages that may not be completed for another year.
Senate Bill 2 also boosts the incentive for productions that take root outside the Santa Fe-Albuquerque corridor, an investment in talented New Mexicans and rural communities that should have every chance to contribute to an exciting, clean industry.
"We're sending a clear message to producers inside and outside New Mexico: We want your creativity, we want your business," Gov. Lujan Grisham said. "Bring your production here, keep it here, put New Mexicans to work. Our film and television industry has an incredible ripple effect: Costumers, caterers, construction companies, local restaurateurs, hotels and service industries all benefit from the influx of activity that comes with a film or television production. And that's without mentioning the limitless creative opportunities for talented young New Mexican adults. Our film business should be a bedrock of our economic diversification efforts, and this legislation represents our commitment to job creation, creative industries and sustainable growth."
"New Mexico families can and will thrive in a better and much healthier economic environment through legislation like this," said co-sponsor Sen. Nancy Rodriguez. "Better job security results in more stable families. I want to thank my fellow legislators and the governor for effectuating positive change through job creation and viable economic development measures."
"The film industry is putting New Mexico on the map, and we are just getting started," said co-sponsor Rep. Antonio "Moe" Maestas. "These investments in the film industry will bring millions of dollars to our economy, create jobs, and invest in communities across the state – including in rural New Mexico. As we work to diversify the economy and expand economic opportunities, the film industry is one way to get us there."
"This is an exciting day for Las Cruces and the state film industry," said Sen. Jeff Steinborn, President of Film Las Cruces. "With this expansion of New Mexico's film incentive program, Las Cruces and other emerging film production communities will become more competitive and attractive as filming destinations. I greatly appreciate the Governor and Legislature supporting the new tax incentive to help grow film opportunities across our region and the state."
"We are the first state in the nation to focus on building business partnerships," said Secretary Alicia Keyes of the Economic Development Department. "This is important because it helps to develop an industry cluster for years to come in New Mexico and provides stability for our workforce."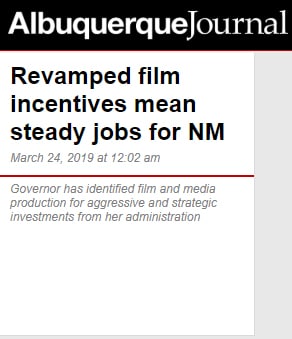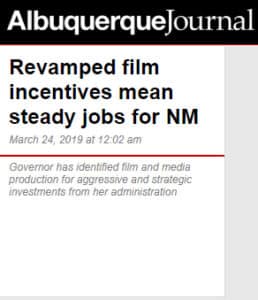 View more photos on Facebook.