HAPSMobile is a joint venture of California-based AeroVironment and SoftBank Corp. of Japan.
Unlike the other contenders, HAPSMobile plans to use high-flying, solar-powered planes and high-altitude platforms, called HAPS. According to the news release announcing the new venture, HAPS "refers to systems where unmanned objects such as aircraft flying in the stratosphere can be operated like telecommunication base stations to deliver connectivity across wide areas." This technology will allow SoftBank to build stable internet connectivity to areas not served by telecommunications networks. SoftBank will also be able to interconnect telecommunications networks as depicted in the diagram below.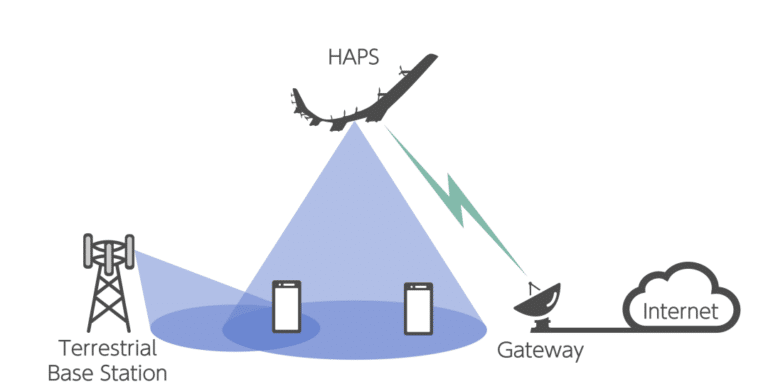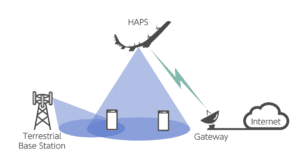 The solar-powered, unmanned aircraft developed by SoftBank and AeroVironment is called Hawk30 and is shown in the rendering at the top of the page. It is designed to fly at 13 miles high, withstanding temperatures and weather conditions in the stratosphere.
Thus far, 2020 has been a year of progress for the company. In February HAPSMobile and Loon announced that they have jointly developed a communications payload for the aircraft. The payload consists of a number of components that allow it to function as a stratospheric cell tower, including highly accurate antennas that rotate as the aircraft moves.
On June 11 HAPSMobile and Gov. Michelle Lujan Grisham announced the new venture's expansion to New Mexico. The amenities at Spaceport America make it an ideal location for test operations and the further development of the communications payload. The Economic Development Department is supporting the expansion with a $500,000 LEDA investment with Sierra County as the fiscal agent.
Spaceport America is the first purpose-built commercial spaceport in the world. The FAA-licensed launch complex, situated on 18,000 acres adjacent to the U.S. Army White Sands Missile Range in southern New Mexico, has a rocket friendly environment of 6,000 square miles of restricted airspace – surface to unlimited, low population density, a 12,000-foot spaceway, and 340 days of sunshine with low humidity.