Pebble Labs is working to clear mosquitoes of the Zika Virus with an investment from the State of New Mexico. Today, July 19, 2019, Gov. Lujan Grisham and NMEDD Sec. Alicia J. Keyes pledged $4 million in LEDA funds to facilitate the expansion of this company in Los Alamos.
Once again, Los Alamos, New Mexico is at the cutting-edge of critical science.
Pebble Labs is managing research on food and crop safety, public health, and the reduction of the occurrence of vector-born diseases (including the Zika Virus). As part of Tuesday's announcement, Pebble said it has reached a breakthrough in substantially reducing disease in farm-raised fish and shrimp throughout the world without the use of antibiotics.
"By investing in promising industries like biosciences and technology, we are creating sustainable, high-paying jobs and growing our local economies. This is exactly the kind of business expansion and industry growth that will diversify the state's economy and keep talented young adults here in New Mexico," Gov. Lujan Grisham said.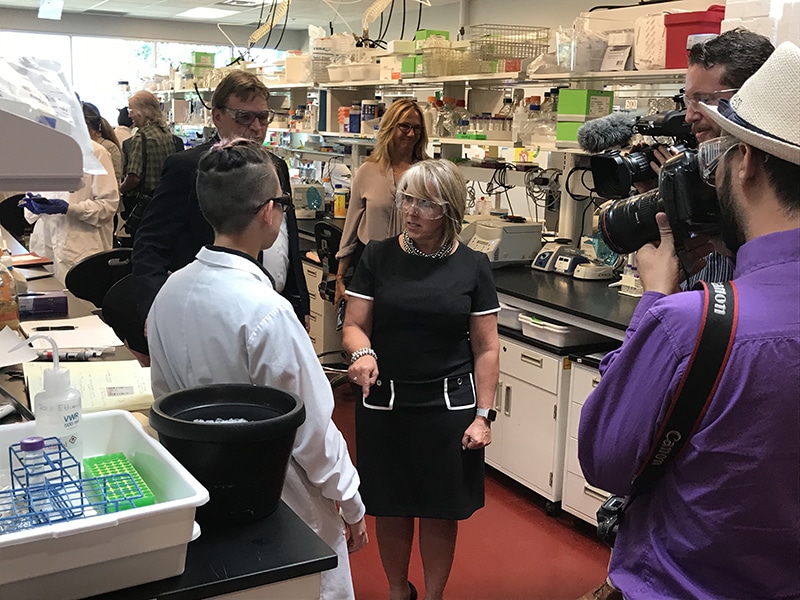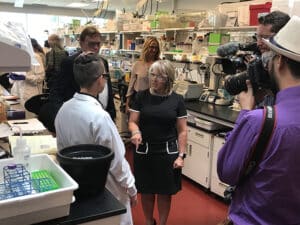 Pebble Labs was started by a former Los Alamos National Laboratory scientist and plans to invest at least $60 million in the next 10 years. Full-time workers at Pebble Labs, many with specialty PhD's, earn about $130,000 and the company will spend $20 million annually. The direct economic impact is expected to be $577 million with over $1 billion in total economic impact, both direct and induced.
In addition to the LEDA investment, the company qualifies for up to $3.25 million in employee training money from New Mexico's Job Training Incentive Program.  Los Alamos County is assisting with the issuance of $12.5 million in Industrial Revenue Bonds and will retain ownership of a portion of the property with Pebble, leasing the space back from the county until the bonds are paid.
More about Pebble Labs.